Farmington Hills Vape and Smoke Shop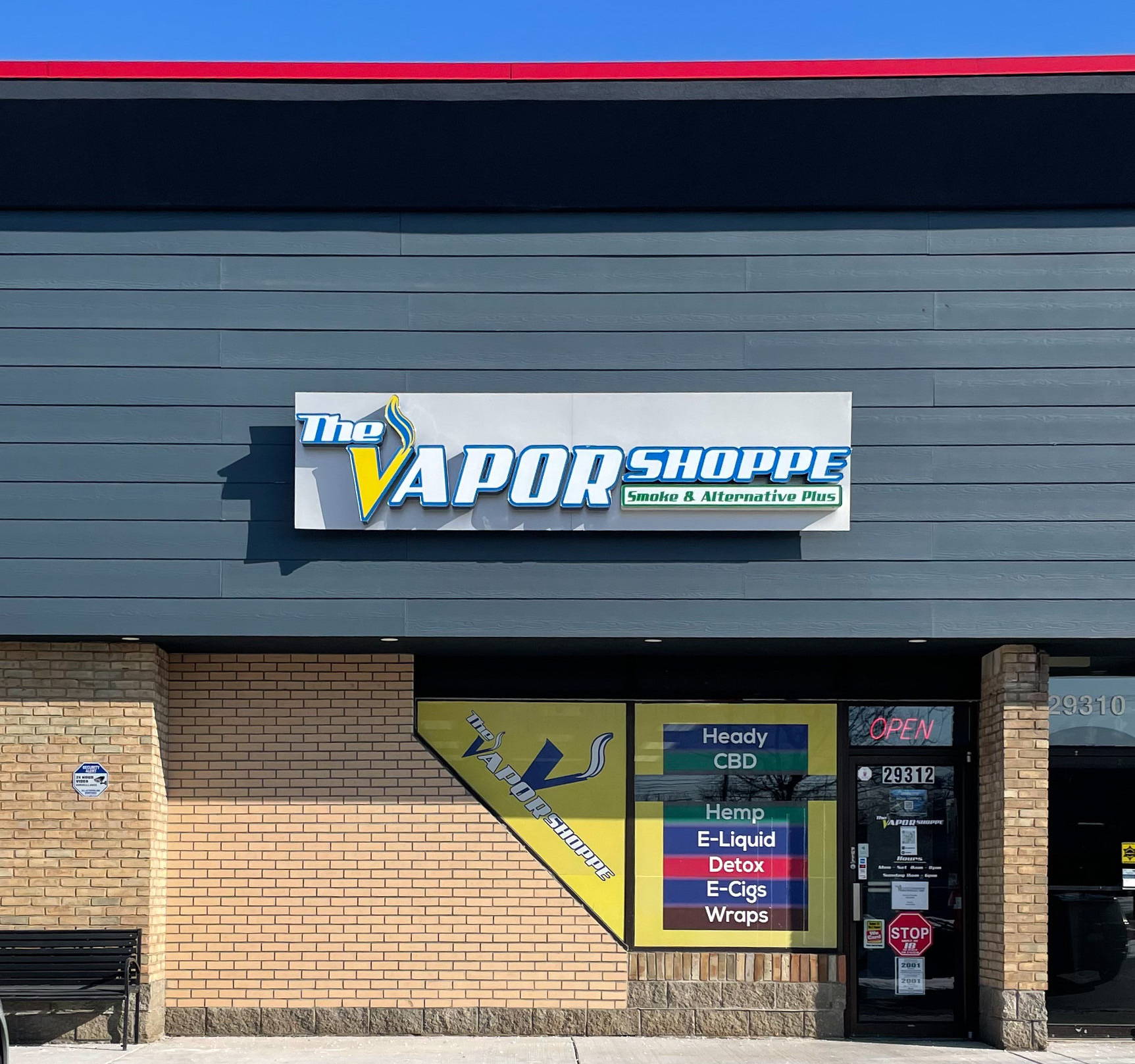 The Vapor Shoppe Smoke & Alternative Plus
---
The Vapor Shoppe Smoke and Alternative Plus is one of the top vape and smoke shop chains in the nation, offering customers a wide selection of reputable brands and the latest products in the industry. Our knowledgeable staff is dedicated to providing exceptional customer service, ensuring that each customer has a positive and enjoyable shopping experience.
Our showroom is upscale and modern, offering a comfortable and welcoming atmosphere for customers to browse our extensive inventory. We are constantly updating our inventory to ensure that we always deliver the latest and popular products. Our quick adaptation to new trends in the industry allows us to bring in new products every week, making us a one stop shop for all vape, smoke, and alternative supplies.
Our inventory includes disposable vapes, vape juice, coils, tanks, mods, salt and sub ohm starter kits, vape pen batteries, 510 cartridge batteries, vaporizers, wraps and papers, glass, and much more. Whether you are looking for a new vape product or enhancing your smoke sessions, we have you covered. Our team is always available to help you find the products that best suit your needs and preferences.
Here you will find industry leading vape and smoke brands including: Vuse, Juul, Blu, Breeze disposable, Geekvape, Smok, Naked, Candy King, Puffco, PAX, Storz & Bickel, Ooze, Whip it, and more!
We pride ourselves on our competitive prices, making it possible for customers to find the products they need at an affordable cost. Our commitment to providing high-quality products and services at a fair price sets us apart from our competitors.
At The Vapor Shoppe Smoke and Alternative Plus, we strive to provide our customers with a next level experience. From our knowledgeable staff to our extensive selection of products, we are dedicated to meeting the needs of our customers and exceeding their expectations. Whether you're a seasoned smoker or new to the world of vaping, we have everything you need to enjoy the experience.
---
Address 29312 Orchard Lake Rd Farmington Hills, MI 48334
Business Hours
Monday 9am - 9pm
Tuesday 9am - 9pm
Wednesday 9am - 9pm
Thursday 9am - 9pm
Friday 9am - 9pm
Saturday 9am - 9pm
Sunday 11am - 6pm
---
The Vapor Shoppe of Orchard Lake
---
The Vapor Shoppe Smoke & Alternative Plus of Orchard Lake is the best vape and smoke shop on Orchard Lake, located on the border of Farmington Hills and West Bloomfield. Our store is conveniently located on the southeast corner of 13 Mile Rd and Orchard Lake Rd, in the same building as Fed Ex and 7-eleveen.
Our knowledgeable and experienced staff will provide excellent customer service, and guide you through our upscale showroom that features an extensive inventory of smoke, vape, and alternative products. We always keep our inventory up-to-date with the latest and greatest high-quality products. We prioritize cleanliness daily to ensure that customers have a safe and comfortable shopping experience.
Our commitment to providing high-quality products at competitive pricing and exceptional customer service is in a class of its own. We strive to provide our customers with an unforgettable experience, whether you're a seasoned smoker or new to the world of vaping, we have something for everyone.
Stop by the best vape shop in Farmington Hills at 29312 Orchard Lake Rd and experience next level products and services and see why we are the top vape and smoke shop in the Farmington Hills, West Bloomfield area.
---
"This place is my go-to vape shop. Huge selection of hardware and juice. Friendly and knowledgeable staff. Amazing prices. Definitely worth going out of your way to visit. Very clean and organized. Best vape shop in Farmington Hills."
Talal A
"Great deals. Great service. I was shopping around for a vape shop because I am trying to quit smoking and I ran across Art inside the vapor shoppe. he answered all my questions and made me feel comfortable about vaping. He set me up with a nice device and some of there gourmet e liquid. They have over 150 flavors! Michigan's Finest is amazing."
Kevin M
"All in all One of the most beautiful vape shops i have seen around with their display of glasses, and accessories. My man art who works there really helped me out in fixing up my prince tank and hooked me up with great in house juices. Highly recommend their in house juice, give this place a try, you will not regret it."
Elias R
---
Products You Fill Find at The Vapor Shoppe
---
---
---